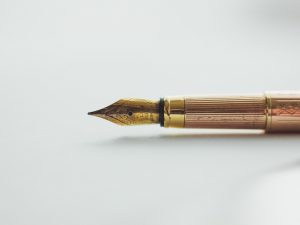 At Scribbler, we want customers to be able to find your cards as easily as possible and proper product titles and descriptions are the ideal way to do that. Here, we've included a couple of pointers to help you to get the best out of uploading your card to Scribbler.
Card Titles:
Card titles show the customer the main theme of the card when browsing the Scribbler website. They should be no more than 50 characters; they should be unique and relevant to the card you're uploading. They should be written in with proper capitalisation (no caps lock or all lower case!).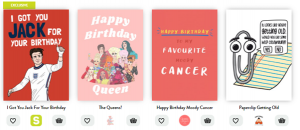 Card Descriptions:
Descriptions are what our website uses to find cards that match a specific search term, they're also what the customers see to entice them to buy your card.
With humour being at the heart of Scribbler, we like funny, short and sweet descriptions that include several important terms which includes the recipient (if the card says Dad, Sister, Friend etc. there is no need to add one if your card is for anyone), the occasion (if there is one), the style (if the card is funny, cute, sporty, rude) and the theme (if a tv character is on the card, mention something that makes them memorable).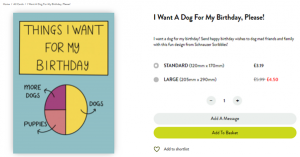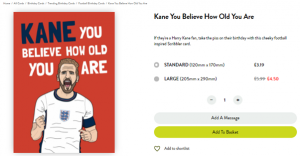 A basic template to follow could be "Let your loved one/(recipient) know how special they are with this funny/(style) birthday/(occasion) card by Scribbler/(your designer name).
At Scribbler, we love individuality, so don't be afraid to add your own humour and personality into your descriptions! Don't forget the keywords customers would search for to find your card.
Moderation:
Adding descriptions like these make it so our team can process your cards and add them to the site much quicker, it also helps with Search Engine Optimisation and internal site search which allows customers to find your cards easily.
Attributes and Categories
When you use Scribbler.com, there are two ways you can find your cards, using attributes on our filters option on a card page or selecting the categories from our dropdown menus.
Attributes allow customers to select specific types of cards they would like to see and they also help us to categorise your cards in the appropriate categories. Therefore, it's really important you add the correct attributes for your cards. We want our categories to have the correct cards featuring to allow the customer the best experience on our site.
General rules:
You should try to keep your attributes as precise as possible, there is no need to add irrelevant attributes as they will be removed if we don't feel the card would fit into the category you've selected for it, which slows down the approval process and getting your cards live.
Occasions
You can select multiple occasions, when necessary, but it is highly recommended to only do this if it makes sense to and the attributes are of a similar theme, i.e. if the card could be marked as Just Because and Thinking of You or Valentine's and Anniversary. Try not to select birthday and anniversary for the same card.
For your blank cards, really think about how appropriate your card is for the attribute you're selecting, would you really want to see that card in the category if you were a customer.
If your card is occasion specific, only select one appropriate attribute. E.g. your card says Happy Birthday To You, don't select Birthday Belated as this card doesn't mention Belated Birthday.
Recipient
This is for who the card is for, not who that card is from, so only select attributes for who you would intend to send the card to.
Again, you can select multiple attributes for recipients, but unless your card is for someone in particular, try to keep your attributes broad here. We have options like All Cards For Her/Him, Kids, Adults, Teenagers which are the attributes you should use here.
Try not to use specific attributes like Dad, Wife, Daughter, Parents unless you card is aimed at a specific recipient. E.g. if you card says Happy Mother's Day Mum, select the Mum attribute. You can also select the broader All Cards For Her in this instance too if you wanted to.
For some occasions it's fine to use a number of attributes if the occasion is quite broad e.g. a card that says Happy Father's Day you could select Dad, Step Dad, Grandad and All Cards For Him. If your card says Happy Father's Day Grandad, select the Grandad and All Cards for Him attributes. Similarly, if you card says Birthday Girl you could add any appropriate female attributes.
Style
You can select any attribute you think is relevant to your card as usual. There are a few attributes that get confused with others so we've tried to explain some of them to help you get the best out of your card.
Think about whether your card is art, illustration or cartoon – try not to add all of these! Please see the examples of what we would consider an Art, Illustration and Cartoon card.
Illustration Card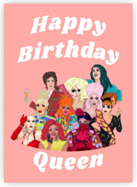 Art Card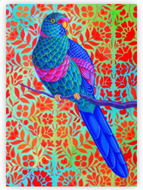 Cartoon Card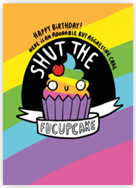 Rude, Funny, Swearing and Family Friendly
Generally anything you consider rude or swearing should not be marked with the Family Friendly attribute. If your card is funny try to think about whether your card is actually suitable for a child or teenager, if it is, feel free to add the Family Friendly attribute.
Themes
Themes are what we consider "trending" topics, such as TV Shows, celebrities, and current affairs. These are pretty self-explanatory but we've included a couple of attribute sets that get confused quite often.
TV Shows and Celebrities
If your card features a TV or Film character (not actor) select the TV & Film attribute, if it's a specific actor/celebrity at the Celebrities attribute instead.
Monthly Birthdays
Only add these attributes if your card actually mentions a month or zodiac sign. There is no need to add these attributes to cards that are summer/winter themed, if your card is an all-year round card, don't add these attributes.
If you are struggling with any attribute definitions, please contact designers@scribbler.com.